Balkumari Deuja, a 61-year-old single woman from Barhabishe Municiaplity Ward No. 7, Tangsar, had faced numerous financial struggles after the untimely passing of her husband who worked in India. To make ends meet, she rented a house to run a shop in Dadagoan, a nearby village. However, her life took a perilous turn when a Flash Flood and landslide struck her village on 13 September, 2020, putting her house at risk from all sides.
The massive landslide that hit Balkumari's village brought forth significant dangers. With the landslide approaching from the top and the river posing threats from both left and right sides, the risk to her life and property was enormous. The ground-shaking added to her fears, and the constant fear she lived with, particularly during heavy rainfall, affected her appetite and sleep. The imminent risk of flash floods and landslides haunted her daily life, intensifying her fear of death. Living alone in such a risky zone made her situation even more challenging.
Recognizing the severity of their situation, Balkumari and 13 other households facing similar risks approached the Bahrabise Rural Municipality chairperson for relocation to the safe place.
Bahrabise Rural Municipality chairperson says "There was no strategy for reconstruction and relocation and lack of technical person for Geo-hazard assessment, Pratibaddha assisted for the strategy formation and geo-hazard assessment for the relocation process". In 2020, 14 households that were affected temporarily resided in tents on private land, receiving a monthly rent of Rs 1,250 per family from the Bahrabise Rural Municipality.
Fortunately, the Pratibaddha Project was already active in their village during this time. The project conducted a comprehensive geo-hazard assessment of their settlement, and the results were clear – the only viable solution for their safety was relocation. Sita Bhujel, the field coordinator of CSRC, is a native who worked in Sindhupalchowk for 7 years. After 2020 Landslide she visited the 14 houses regularly and made them aware about their right to obtain the relocation fund from the government.
With the Pratibaddha Project's support, Balkumari and the affected households began the process of relocation to Tangsar, in a safer location. The team members of Community-Self-Reliance Center (CSRC) played a pivotal role in guiding and supporting entire households throughout the process collecting and preparing necessary credentials to obtain government funds for the relocation. They also constantly reminded the Rural Municipality to timely release the fund as well as for mobilization of technical officer for the construction of resilience houses. Pratibaddha Project acts as a bridge between the government and the local community to assist the beneficiaries for relocation funds.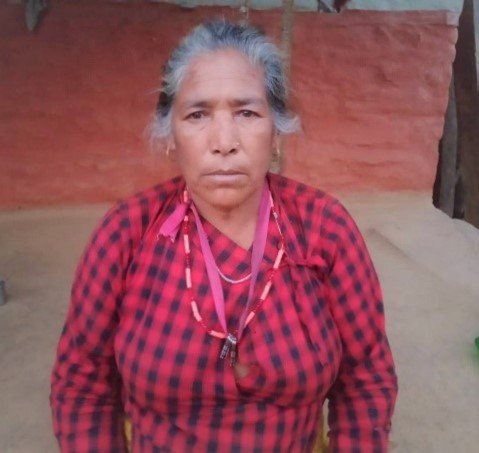 Balkumari's life took a positive turn after successful relocation to Tangsar. She is now living in her new house, free from the constant risk and fear she faced in her previous location. The support provided by Pratibaddha and the tireless efforts of CSRC's team members has brought her immense happiness and a renewed sense of security in her life. No longer burdened by the constant threat of natural disasters, Balkumari can focus on rebuilding her life with a newfound sense of hope and
resilience. Balkumari also mentioned how the shorter distance between her agricultural land and the newly relocated house in Tangsar has ease her livelihood activities. Ward chairperson showed appreciation to the Pratibaddha team for the The CDMC (Community Disaster Management Committee) has been set up for Forecast Based Action, and the dissemination of Early Warning messages to the beneficiaries of CAT Ⅱ and CATⅢ is now underway.
Balkumari's journey from living in constant fear and peril to finding safety and security in a new home is a beacon of hope for others facing similar challenges. The collaborative efforts of various stakeholders, including government's authorities from local to federal level have transformed Balkumari's life and restored her faith in the future.